The Heights of Houston, Texas, commonly referred to as "The Heights" or "Greater Heights", was established in the late 1800s, made up of mostly rich and established middle class residents – usually referred to as "old money", which made the area an exclusive and revered place to live – if you could afford it.
Fortunately, It's proximity to downtown started attracting younger, and upwardly mobile professionals forcing "the heights" to adapt to demand by providing the housing and amenities that suited the new crowd and their families.
This mixture of classes and generations over time, ensured that the heights today, presents a a diversity of generations, ethnicity, families and class, with amenities to support each taste, making it one of the most sought after places to live in Houston.
Today in the heights, you will find dynamic lifestyles, pleasant and scenic hikes and bicycle trails, with boutique yoga, wellness, and fitness studios in close proximity. Family retail shops, broadly recognized eateries, and eccentric local bars create a fully immersive and intrinsic sense of community.
Houston Heights is one of the biggest and fastest-growing neighborhoods in Houston, and can be found inside what is referred to as "Greater Heights" which is located in the North-West Central of Houston. 
It is known for its combination of urban living and rural sense of community and conveniently located about 5-15 minutes from Houston downtown, depending on traffic.
This proximity to downtown affords residents the ability to enjoy access to world-class amenities and entertainment right in their backyards, without sacrificing the tranquility of the neighborhood from the noise and bustle of the city center, due to excellently crafted architecture that took advantage of the higher elevated landscape.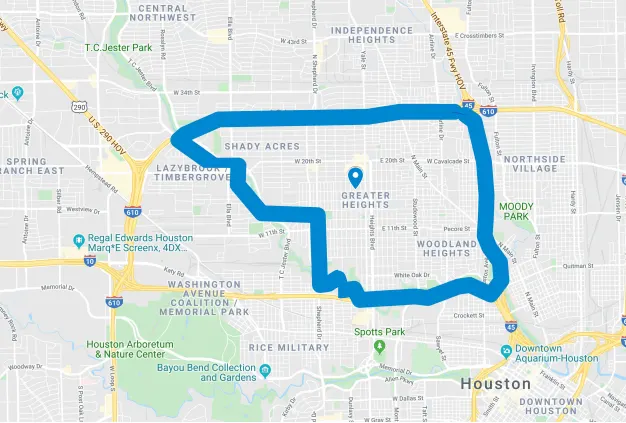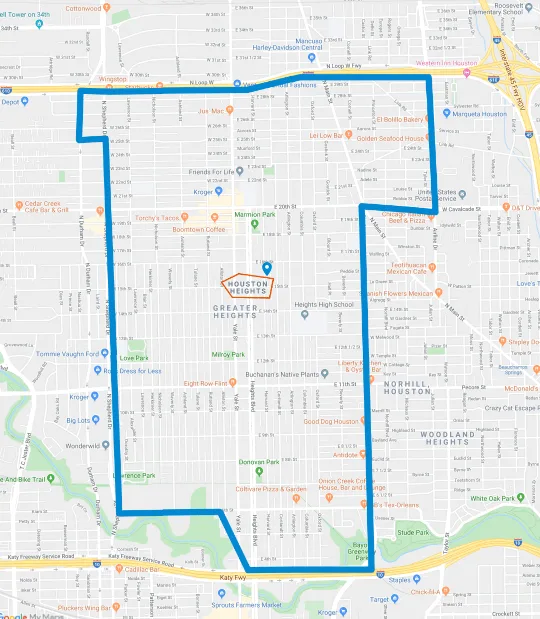 The Heights is often used interchangeably with  it's much bigger term of "Greater Heights" which is a larger span of land that consists of Houston Heights, as well as the following neighborhoods;
Germantown, Woodlands Height, Norhill ,Shady Acres, Sunset Heights, East Sunset Heights, Clark Pines, and Brooksmith
.
Houston Heights, is slimmer piece of real estate that runs the length of Greater Heights from North to South,  and within North Shepherd Drive on the West and Studewood Street in the East.
Even though "The Heights" is a few minutes from the bustle of downtown Houston, it presents a quintessentially quiet residential environment that mixes the energy of students, young working professionals who form the majority, new families and a modern older crowd.
"Expect upscale and eclectic bars and restaurants, active lifestyle bike and hike parks, and newly developed amenities like gyms, grocery stores, and shopping complexes"
The homes available for sale in the heights are reflective of the diversity in the area, so you will find anything from Colonial to Contemporary, Modern, Mid-century modern and Art Deco, and a whole range of others.
If you're unsure about the architectural design that interests you, I explain the different kinds of homes in Houston here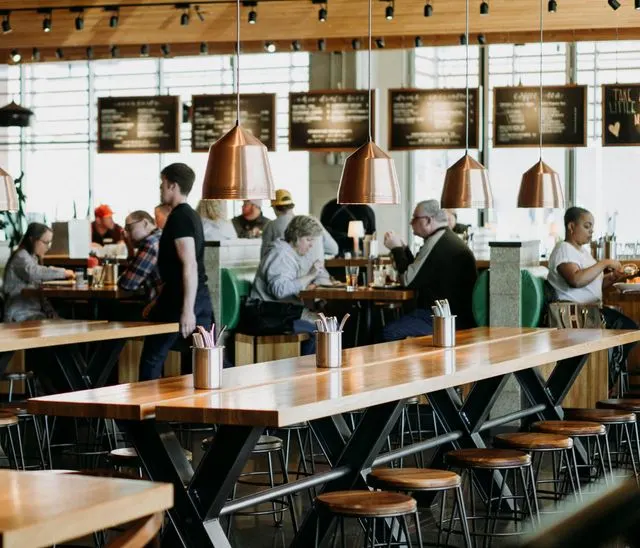 Greater Heights Houstonians love their artsy neighborhood, which is made up of a mixture of regular and unconventional shops with eccentric products.
You will find a popular stretch of theaters, salons, restaurants, bars and shops where specialty jewelry, clothes and services can be obtained. The Heights theater offers an intimate location for theatrics and features emerging artists and plays, while live music at bars like Fitzgerad's provide evening and weekend entertainment.
Most areas are accessible by walking or cycling which ties into the health conscious nature of the neighborhood, and a network of parks interject walk and bike trails that interconnect the streets, and pathways into other neighborhoods.
It is a haven where nature, health and good cuisine come together, which is the reason, niche.com ranked the heights, the 9th best place to live in Houston.
Some notable attractions are the private club Art Car Museum, nicknamed "G'raj Mahal", Sand dollar thrift shop, and Aurora Picture show, for intimate experience of the Arts, Heights style.
The Heights is a beehive of outdoor activity and will suit the outdoorsy person, who likes gallivanting on the sidewalks, while enjoying the different attractions already mentioned.
You will have to deal with the significant humidity that hovers over Houston city, which is not ideal, but almost every business with an outdoor facility offers some kind of cooling mechanism to be make it tolerable.
The summer is the worst of it, and during the winter, the weather cools down considerably, and has the same feel as the Californian weather – which is perhaps why Californians are moving to Houston in their droves.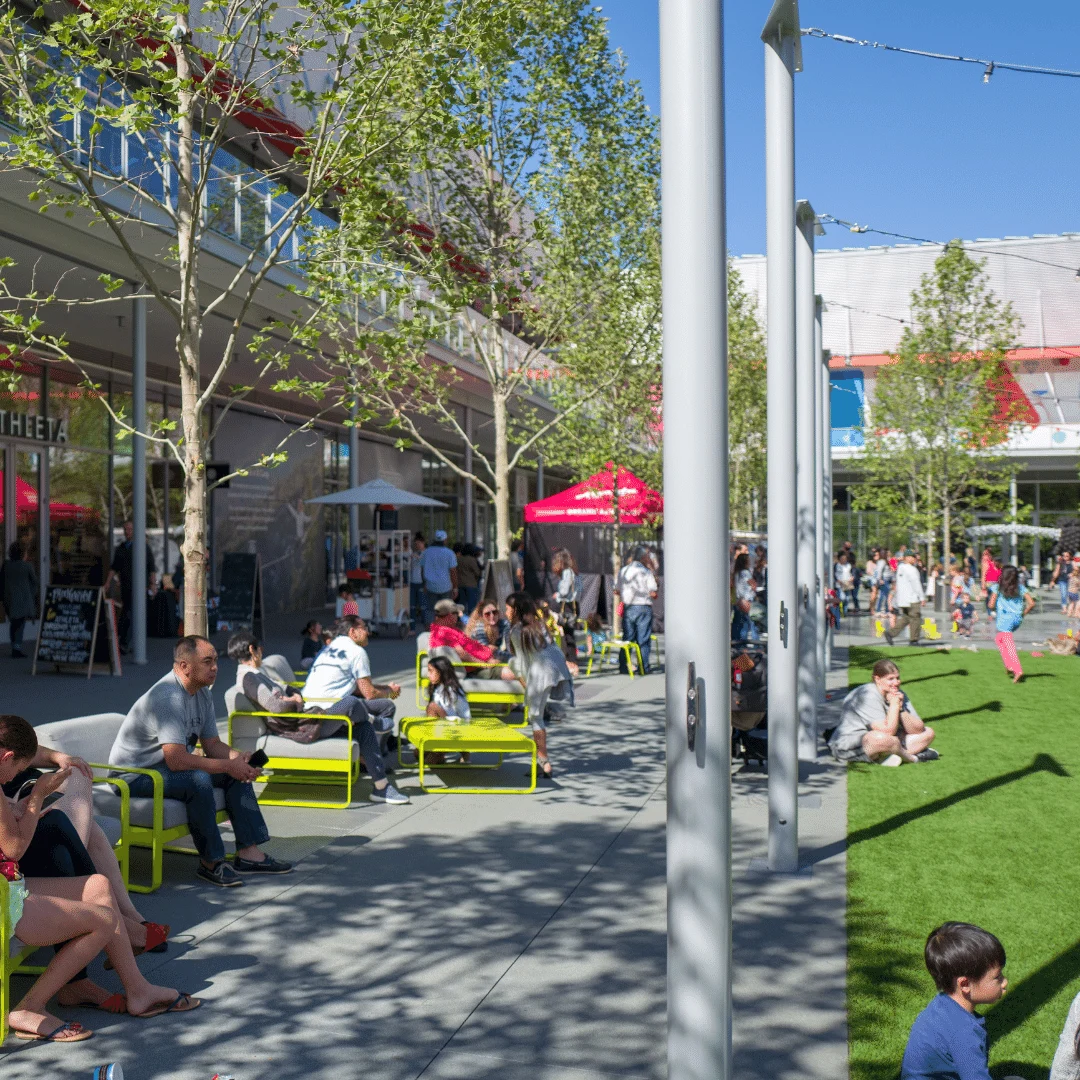 Total Population: 45,154
Persons per Sq Mile: 5,899
Median Income: $95,690
Median Housing Value: $435,891
No of Housing Units: 22,153
Total Households: 20,045
Family Households: 10,087
Occupied: 90%
Vacant: 10%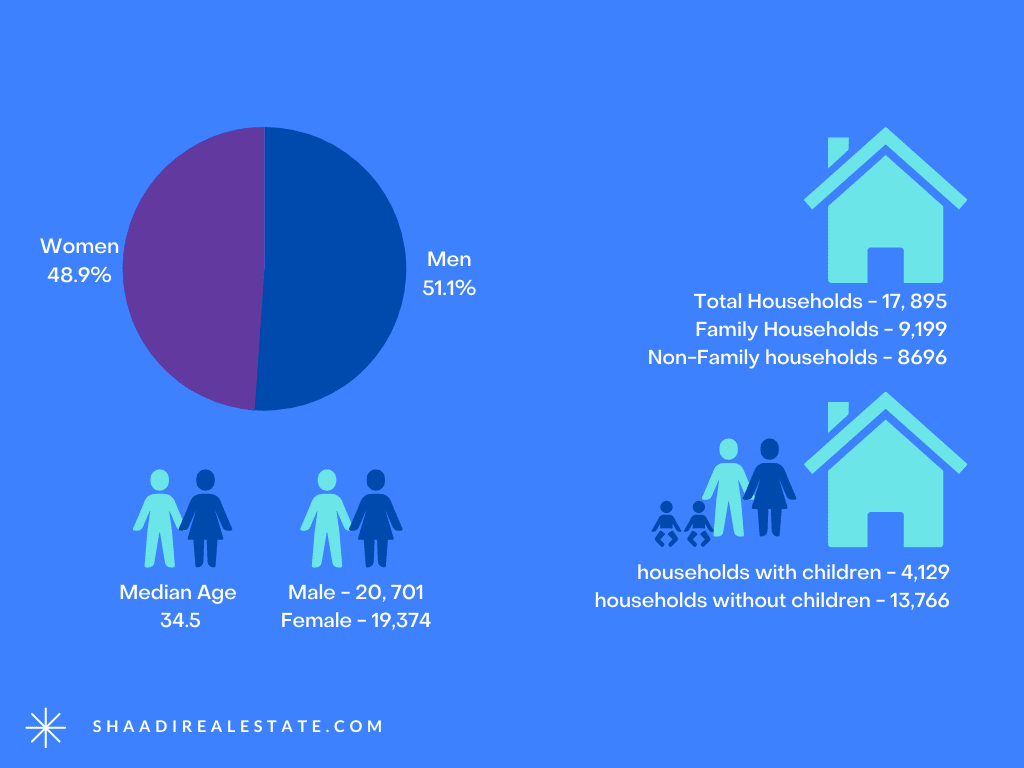 Houston Heights community was originally made up of bungalows and old Victorian designs from the early days of Houston Heights, and is protected by the "Deed Restrictions Act" of 1990 to maintain the history of the community. So you will find renovated and well-maintained historic bungalows scattered around the neighborhood, but this only serves to promote the cultural richness from combining modern and historic concepts
Most of Houston Heights homes are detached Single -family designs and are free-standing, which means that they are unattached structures, usually surrounded by a parcel of land, that can be used as an open yard, garden or patio. Inspired tree placements and beautiful gardens provide shade during the summer months and create beautiful colors in the spring, and especially in the fall, which complement the house designs.
The gated Community homes offer an extra level of security for peace of mind to residents. Here you will enjoy master-planned homes, with concierge services, private parking, conference rooms and swimming pools for events and recreation among others.
There are a variety of Single Family homes and Townhouses that feature in these communities, and ideal for anyone looking for a bit more exclusivity and security.
Leasing in Houston Heights can be steep for comfortable high or high end apartments, but there are opportunities for shared accommodation or single rooms within a landlord's house. Contact me directly if you have specific requirements
Do Homes in Houston Heights Flood?
Houston has not been without it's fair share of weather upheavals, especially with Hurricane Harvey which wrecked havoc on the city's infrastructure.
The Heights was largely unaffected due to the effectiveness of the bayous that were constructed precisely for that purpose. Combined with being on high ground, homes in the heights were the least affected and remain highly valued because of this.
Amenities & Assets in Houston Heights
When moving house, you have needs and requirements that will vary between people based on several variables like marriage, children, work, travel, income and more.
These will essentially begin to dictate your lifestyle, so you must familiarize yourself with the assets around you to ensure the life you build is the life that you want – or at least have the means to vary or change it if need be.
Below is a compilation of categorized business services in Houston Heights, that may be beneficial to you.
Think of it as a "things to do in Houston Heights", which contains the usual amenities and services you would expect in any standard neighborhoods, but Houston Heights is constantly updated with new and quirky gem establishments and services that complement the eclectic community and I shall endeavor to update this regularly
Dining and Restaurants
Parks
Night Life
Daycare
Repairs
Financial Services
Hotels
Other Services
Dining and Restaurants
My Top 5 Neighborhood Food and Bars in Houston Heights
---
1. Savoir
1344 Yale Street Houston
Tx 77008 Tel: 713485 4181
 A new American restaurant with a focus on locally sourced ingredients. They have a wide-ranging menu, with dishes like roasted cauliflower with harissa yogurt, grilled octopus with black garlic vinaigrette, and filet mignon with lobster mac and cheese.
---
2.  Eight Row Flint
1039 Yale St. Houston
Tx 77008 Tel: 8327674002
A bar & grill hang out spot that has an assortment of Fajitas, Fuertes Tacos and of course Nachos. I love it because apart from the food, you have a choice mojitos, cocktails and margaritas to wash it down with; and for the bravehearts – there's barrel whiskey and spirits. The only shame is that it closes at midnight – but that's for good reason.
Parks
Night Life
Daycare
Repairs
Financial Services
Hotels
Other Services